VisualText™'s comprehensive interface allows you to focus on the main goal: quickly building an accurate and complete text analyzer.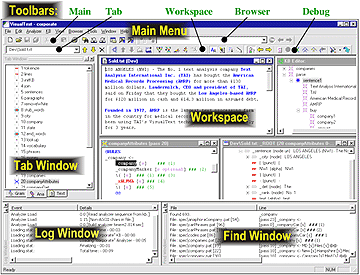 Debugging Tools
A suite of debugging tools lets you highlight rule matches, examine parse trees, and study your analyzer one step at a time:
Flexible, Easy to Maintain, and Fast
VisualText is not tied to one style or paradigm of text analysis. If you can imagine a text analyzer, then VisualText can build it!
Being "visual" means easy to build and maintain. VisualText displays text analyzers in such a way as to make it easy for anyone to modify or extend existing analyzers.
And finally, VisualText is fast. It can substantially cut the cost and time needed to build text analyzers. Text analyzers under development are run in interpreted mode, so that you can quickly modify and test your analyzer. Once a text analyzer is built, you can compile it to run even faster.
---
Next Section: